Annual Apple Festival on Sunday, October 6, 10 – 4pm
Winona, MN – Some say the Polish language is considered to be one of the most difficult and hardest languages to learn – add a pinch of Kashubian to it, and your head is spinning! Language barriers aside, Polish-Kashubian heritage has permeated and impacted Winona's region. On October 6th from 11 am to 4 pm, you will again have a hands-on opportunity to experience their unique culture – art, food, dance, music – during the Annual Polish Apple Fest on the grounds of the Polish Cultural Institute and Museum in Winona.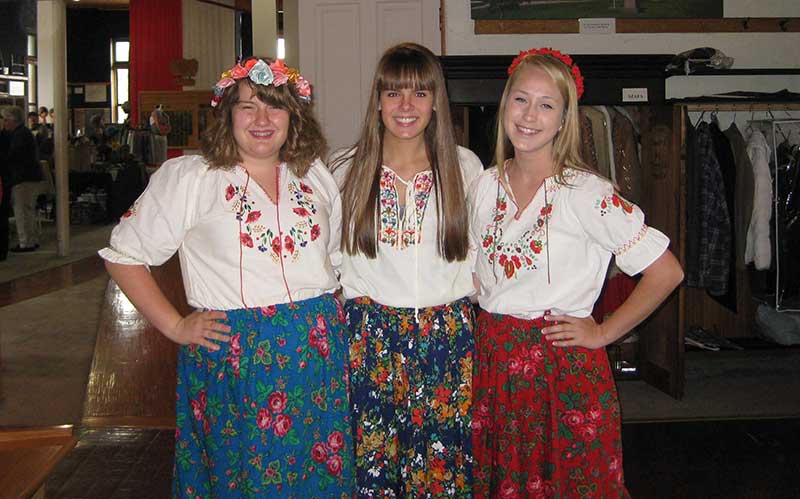 Have you ever had Ciszka (cheeSH-kah)? How about a bowl of Czarnina (char-nee-nah), Gołąbki (gaw-WOAMB-kee), Drop Noodle Soup, Grits Baloney, Pickled Northern or Turtle Stew? These specialties may sound weird to your ear; but the recipes have been cherished for generations, and you may understand why after having a complimentary taste.
For the somewhat-faint-of-heart, enjoy traditional Coffee Cakes, Pierogis, Kielbasa, Polish Beer, and everything apple from Fr. Paul Breza's Orchard: bagged, juiced, or baked into pies, turnovers, and apple crisp with Cinnamon Ice Cream.
After getting your fill of Polish delicacies, get ready to cut-a-rug to the musical stylings of the Polish Jam Polka Band. They will be performing on Liberty Street from noon to 3 pm. In the event of rain, the Cynor Brothers will be playing in the Annex Museum. Lorraine Kilmartin of Handbasket Creations and a guild of weavers and spinners will be demonstrating their skills from noon to 4 pm on a loom recently gifted to the Museum.
Find unique gifts from area crafters or stop at the Museum's Gift Shop for authentic souvenirs including Kashubian pottery from Poland. You can enjoy heritage exhibits, children's games, silent auction and then, leave proudly saying SMACZNE JABŁKA (s-mach-neh yah-buw-kah) as if you were Polish Kashubian!
Celebrating its 40th anniversary this year, the Polish Cultural Institute and Museum is focused to preserve, exhibit, interpret and disseminate the heritage of the Kashubian Polish Culture. The Polish Cultural Institute and Museum is a nonprofit 501c(3) organization in Winona, MN.